EAT PALM BEACH | KITCHEN RESTAURANT
We visited Kitchen for dinner for my sister's birthday and I have to say I see why she loves this place. The restaurant is small and feels very intimate. Definitely recommend a reservation! The atmosphere is clean and crisp but elegant with white linens and a chalkboard back wall featuring foodie quotes.
The vision of Chef Matthew Byrne and his wife, Aliza, who welcomes guests and is a wonderful host, Kitchen serves modern America cuisine with an emphasis on quality ingredients and refined simplicity.
We were started with an Amuse Bouche of white bean, eggplant, and chevre bruschetta. We debated the menu quite a bit as there were so many items we wanted to try. We decided on the Asparagus and Prosciutto appetizer, which is designed to emulate bacon, eggs and toast with a poached egg resting atop. It was delicious and, bizarrely enough, did taste like bacons, eggs and toast.
I went with the Seafood Risotto which was a special of the evening. I have a hard time ever resisting risotto and I think it went well for me in this particular case. The risotto was cooked to perfection and had an array of seafood from clams and mussels to white fish. The snap peas added the perfect crunch to the dish. I seriously considered ordering the Chicken Schnitzel, which is apparently the house favorite and signature dish. The birthday girl went with the Kitchen Burger, which was served on the most amazing brioche bun and came with these delectable parsley fries.
Dessert was a whole other experience. We went with the Strawberry Shortcake, which was to die for. It was almost too pretty to eat (almost) with its fluffy whipped cream, deep red strawberries and sugar powdered sponge cake. I am not a chocolate lover, so I am always thrilled to see a dessert option like this. It was light and fresh and the perfect end to the meal.
Overall we had an amazing time at Kitchen. Our server was lovely, the atmosphere was lively and the food was cooked beautifully. I'll definitely be back!
OK, fair warning on the photos… I'm so against flash photography at dinner so they don't do any of our meals justice. I even stole a photo from the Kitchen website as an apology of sorts. (So, please don't sue me for using your photo – it was done with love!)
Meals at the Table
Amuse Bouche | Asparagus and Prosciutto | Seafood Risotto | Kitchen Burger | Strawberry Shortcake
Menu (Credit: Kitchen Website):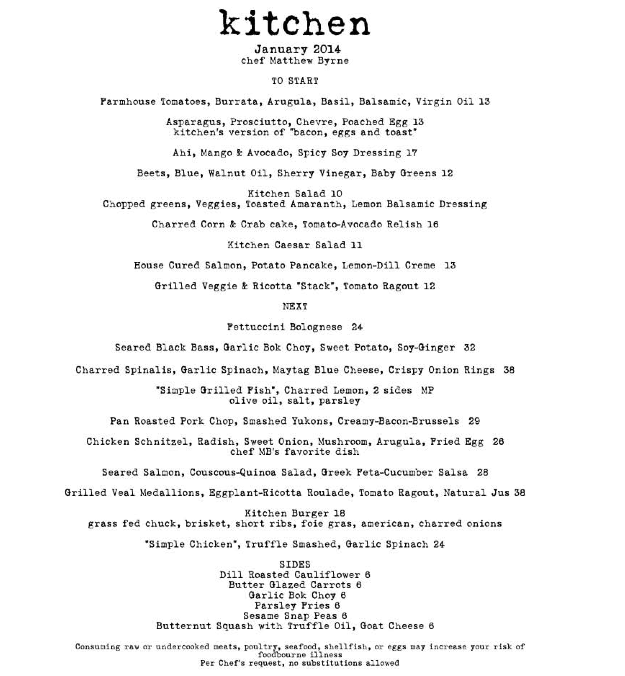 Kitchen
319 Belvedere Rd. West Palm Beach, FL
561.249.2281
kitchenpb.com
The following two tabs change content below.
Cristyle is a South Florida native, born in Miami and raised in Palm Beach. Her love of food came through her travels and seeing how cuisines differ and relate so much. She attended the University of Florida, had a short stint in Charlotte, NC and is now back home - ready to eat her way through Palm Beach County and share her findings with locals and visitors alike. From brunch to happy hour to foodie events, she's got you covered!