MEET
Tracy Memoli
OF
Suite and Savory
What made you decide to start a food blog? What is your focus/theme/area?
Suite & Savory is an organic extension of my love for food and travel. My goal for Suite & Savory is to enrich readers through the simple pleasures of travel & dining. Even though we may speak different languages and hail from different parts of the world, when it comes to food and the desire to eat, we all speak the same language.
The Butterscotch Sage is where I share my traditional recipes always with an innovative, contemporary twist.
In February, I will be launching Table for Two, candid kitchen conversations with trending chefs around the globe and Suite Dreams, reviews and vlogs of leading luxury hotels and resorts around the world.
How did you come up with the name "Suite and Savory?"
Suite & Savory derives from my obsession with dishes that have both the delicate combination of sweet and savory. The name of this blog also combines my two loves – travel and dining, with my fondness for staying in luxury hotel suites. I'm a pushover for great hospitality and given the opportunity, I would prefer to permanently reside in a hotel – I'm a sucker for room service.
Who is the person behind the keyboard/smartphone? 
I live in New York City, however come winter my heart belongs to South Florida. I'm originally from Central Florida. Out of college I began my career as a travel journalist and shortly after moved to New York City where I worked my way up from an internship position to Vice President at a public relations firm handling clients in the hospitality & leisure industry.
When I'm not eating, cooking or traveling, I love to host dinner parties for my friends and family. I also love yoga, meditation, photography, writing, painting and art.
What is your food crush of the moment?
My food crush of the moment is bacon jam, which is no surprise because it's a little sweet and a little savory all in the same bite. A place that perfects the bacon jam is Latitudes at the Delray Sands Resort in Highland Beach, FL. Their bacon jam is served atop their white bean dip, drizzled with extra virgin olive oil and their bourbon bacon jam! The dish has a hint of garlic and is garnished with micro greens. Ask for Chef Andy Gayler, Regional Executive Chef for the Opal Collection by Ocean Properties.
What is a hotel must-have?
Savvy staff that make the hotel guests feel as though they are at their complete disposable, a better than decent bistro on site and luxury bathroom products. In my opinion, luxury bathroom amenities say a lot about the hotel/resort. If a hotel is in tune with their guests needs they usually offer the best bathroom products possible. My personal favorite is Gilchrist & Soames – it's a London-based company and their products are usually found in the finest hotels and resorts around the world. On a recent trip to Europe, while in Rome at Hotel Eden, part of the Dorchester Collection, I noticed they were offering this brand of exceptional products. And even more recently during my week stay at the Delray Sands Resort, part of the Opal Collection by Ocean Properties I noticed they have their own branded line of products created exclusively by Gilchrist & Soames for the Opal Collection.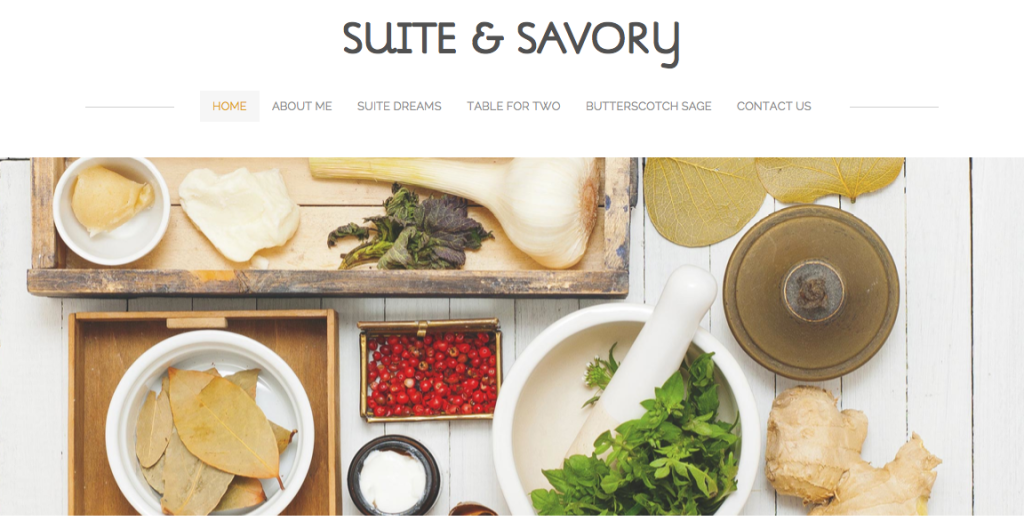 What's one thing you would love people to know about your blog/site?
Suite & Savory will strive to have entertaining and informative content. Readers can regularly find delicious, easy to prepare, innovative dishes under my recipe section, The Butterscotch Sage. Whether it's through my recipes, travel vlogs or chef interviews, I'd like my readers to leave my site learning something new about food, dining and/or travel.
…
Please share some of your top picks in your area:
Happy Hour: Buccan – Palm Beach
Brunch & Raw Bar: Latitudes at the Delray Sands Resort in Highland Beach
Date Night: Cafe Sapori – West Palm Beach
Hotel Restaurant: Café Boulud at the Brazilian Court
Hotel: Eau Palm Beach
Wild Card: Poolside cocktails: The Mar-a-Lago Club
Sweet Treats: Kilwin's – Delray Beach
Breakfast: Greens Luncheonette – Palm Beach
Hotel Bar: HMF at the Breakers Palm Beach
…

Where can you be found?
Facebook: facebook.com/tracymemoli
Twitter: @tracymemoli
Instagram: @tracymemoli
Website: suitesavory.com
The following two tabs change content below.
Cristyle is a South Florida native, born in Miami and raised in Palm Beach. Her love of food came through her travels and seeing how cuisines differ and relate so much. She attended the University of Florida, had a short stint in Charlotte, NC and is now back home - ready to eat her way through Palm Beach County and share her findings with locals and visitors alike. From brunch to happy hour to foodie events, she's got you covered!