MEET
Chef Clay Conley, Owner
OF
buccan & Imoto, Palm Beach, FL
How did Buccan and Imoto come about?
Buccan has been in "development" for quite some time, 15 years or so. Even as a young line cook it was the kind of place I knew I wanted to open. After several attempts in Miami, my business partner, Piper Quinn, proposed we look in Palm Beach…at our current location. He had been eyeing the space for some time. So, our team visited the island, loved the space, and the rest, as they say, is history…
Imoto came about when the adjoining store on South County Road became available. Designing a concept with a focus on Asian flavors was a natural move; I had spent a lot of time in Japan, Thailand, China and Southeast Asia and fell in love with the flavors. It was also important to offer our guests a vastly different experience from buccan.
Why are "small plates, big flavors" your preferred dishes? 
When I go out to eat I like to try a lot of different things. After 3 or 4 bites of a large plate I am bored. The small plate type of dining allows guests to enjoy a variety of different flavors in one seating.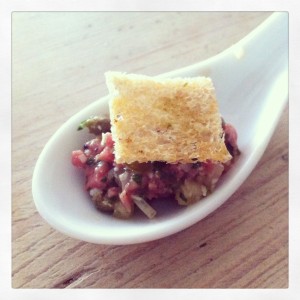 What is your process for creating a new plate? 
It depends. Sometimes it's a flavor combination that I taste or read about and find interesting, or sometimes it's an ingredient that I want to use and highlight. Either way, it usually takes a good amount of tweaking and tinkering and re-plating before I am happy with it.
What is your food crush / guilty pleasure of the moment? 
My guilty pleasure is ice cream at the moment. Sloan's (here in WPB) Cookie Dough Cookie and Red Velvet Cake by Ben &  Jerry's are my current favorites.
What's next for the Conleys?
Enjoying our beautiful daughter.
Any advice for local aspiring chefs or restaurant owners? 
Get the right partners. There are a lot of people out there preying on chefs who haven't been given the right business advice. I know personally that the lure of owning your own place can sometimes cause you to make bad decisions. Don't fall in love with places/spaces because you will probably end up somewhere completely different, and much better than you would have expected.

buccan serves inventive American cuisine in the form of small plates, flatbreads, large plates and signature cocktails. Imoto features sushi, sashimi, dumplings, tempura, and fire-grilled selections. Both locations prepare their dishes with an emphasis on fresh, high quality ingredients and the philosophy of "small plates, big flavors."
buccan
350 S County Rd, Palm Beach, FL 33480 | 561.833.3450
buccanpalmbeach.com
Imoto
350 S County Rd, Palm Beach, FL 33480 | 561.833.5522 | imotopalmbeach.com
The following two tabs change content below.
Cristyle is a South Florida native, born in Miami and raised in Palm Beach. Her love of food came through her travels and seeing how cuisines differ and relate so much. She attended the University of Florida, had a short stint in Charlotte, NC and is now back home - ready to eat her way through Palm Beach County and share her findings with locals and visitors alike. From brunch to happy hour to foodie events, she's got you covered!