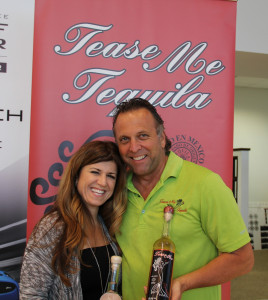 MEET
Daryl Inwood and Tammy Barra, Owners
OF
Tease Me Tequila
How did you get started in tequila/spirits industry?  
We really enjoy tequila! We drank a lot of different types of tequilas and started visiting Mexico numerous times. It was 5 years in the making and our company has only been launched approx.16 months ago. With hard dedication and being passionate about our product we introduced our own brand named Tease Me Tequila into the USA. Our import license is good for Canada as well as The Virgin Islands too.
Why the name "Tease Me"?
First of all it started from Daryl's Tease Me Teasers and Fishing Apparel Company. Tease Me Tequila was inspired on Daryl's boat named "Tease Me" as all our friends were drinking margaritas singing Tease Me Tequila!!! We love the water hence the mermaid on the bottle and that's all she wrote.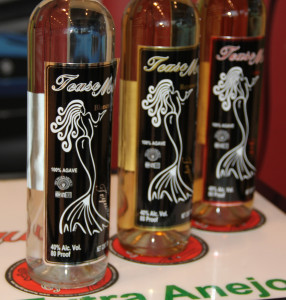 What is the difference between the flavors of tequilas you offer? 
There are four varieties of Tease Me Tequilas, Blanco Reposado, Anejo and Extra Anejo. All of our tequilas are 100% Blue agave and have a clean smooth taste with NO added sugars, NO carmel colorings, NO chemicals, NO preservatives and are Gluten free.
Blanco is triple distilled in small batches and is the base from which all of our variants are derived from. Tastes of hints of citrus complemented with a touch of black pepper.
Reposado is aged or rested for up to a year in American oak whiskey barrels giving this tequila its deep amber color. It has dominant agave, wood and spiced taste which gives its ability to maintain its taste for an extended period of time. This tequila makes and excellent sipping tequila or for a premium cocktail.
Anejo is our award winning tripled distilled in small batches and is aged up to three years in American Oak whiskey barrels. It gets its rich distinct color from natural aging. Agave flavors complimented by sweet vanilla, a touch of spices, buttered apples and baked pineapple. The matured tequila makes an unforgettable sipping experience.
Our Extra Anejo undergoes careful aging for at least five years in previously used American Oak whiskey and its dark rich mahogany color agave is mellow for extreme smoothness. This is the ultimate sophisticated sipping tequila. Smoother than a fine Cognac or single barrel Bourbon!
How do you recommend drinking the different types of tequila?
Generally we use the Blanco with mixers but it is so smooth and clean that people just love it on the rocks. For our Reposado we mix as well as sip on the rocks. With our Anejo and Extra Anejo you do not want to mix because it is too good to waste with a mixer. It is very enjoyable to sip alone on the rocks.
We have marinated meats and used our tequila with clams and fish and it all taste delicious! Since it's 100% Blue Weber Agave it is clean and pure to add to any meal.
What's next for Tease Me Tequila?
We are looking to produce a coffee tequila in the future.
What is your drink crush of the moment?
The drink crush of the moment is our Mangorita which is super delicious!
Ingredients
2 Whole Limes
2 Tablespoons Coarse Sugar (Decorator's Sugar)
2 Jars (20 ounce) Mango chunks, drained
1-1/2 cup of Tease Me Blanco
1-1/2 cup of Triple sec
¼ cups Sugar
Preparation
Zest the limes and lay the zest on a plate. If you have time, let the zest dry out for 10 minutes or so. Pour the course sugar over the zest and toss it around with your fingers to combine. Lime Sugar!! Yum!
Throw the mango chunks into a blender. Pour the tequila, triple sec and sugar. Squeeze in the juice of the limes then top off the whole thing with ice. Blend until totally smoothed. Give it a taste and add more alcohol, sugar, lime etc., if needed.
To serve, rub lime on rim of glass to moisten. Dip rim in lime sugar and pour in mangorita and serve immediately!
Any advice for local aspiring business owners?
You need to stand out from others, be committed and passionate about what you do. We have a great product and our Tease Me Tequila taste says it all!!
What areas do you service?
We are a local distributor right here in Jupiter, FL in your backyard. We supply to many local restaurants and liquors stores from Martin, Palm Beach, Broward, Dade and Monroe County as well as many cities throughout the state of Florida.
Please see our website for a complete list: www.teasemespirits.com and ask for TEASE ME TEQUILA!!! Drink Responsibly.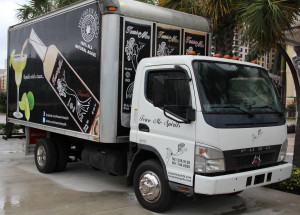 The following two tabs change content below.
Cristyle is a South Florida native, born in Miami and raised in Palm Beach. Her love of food came through her travels and seeing how cuisines differ and relate so much. She attended the University of Florida, had a short stint in Charlotte, NC and is now back home - ready to eat her way through Palm Beach County and share her findings with locals and visitors alike. From brunch to happy hour to foodie events, she's got you covered!