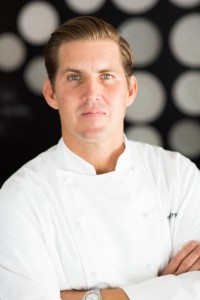 MEET
Chef Matthew Byrne, Owner and Executive Chef
OF
Kitchen Restaurant, West Palm Beach FL
I am a huge fan of Kitchen in WPB. Chef Byrne and his lovely wife, Aliza, have created an intimate dining experience with a warm and inviting atmosphere and mouth-watering menu. 
Why the name "Kitchen"?
We chose the name "kitchen", because we wanted our restaurant to be an extension of our kitchen and cook like we do at home.
If you could enjoy a meal in any person's kitchen, whose would it be?
Anthony Bourdain
How do you come up with new dishes? What do you use for inspiration? 
Buy visiting the local fish markets and produce purveyors to see what the freshest and best is available… We buy the freshest and try to do as little as possible to it.
Our motto is "keep it simple."
What is your food crush of the moment?
Fresh peas and soft shell crabs.
What's next for Kitchen / the Byrnes?
Maybe a little addition for a wine bar.
Any advice for local aspiring chefs and/or restaurant owners?
Believe in what you do, keep it simple, trust your instincts and get to know your purveyors. Most important make sure you have fun and are happy doing what you do.
Check out our review of Kitchen HERE
Kitchen
319 Belvedere Rd. West Palm Beach, FL
561.249.2281
kitchenpb.com
The following two tabs change content below.
Cristyle is a South Florida native, born in Miami and raised in Palm Beach. Her love of food came through her travels and seeing how cuisines differ and relate so much. She attended the University of Florida, had a short stint in Charlotte, NC and is now back home - ready to eat her way through Palm Beach County and share her findings with locals and visitors alike. From brunch to happy hour to foodie events, she's got you covered!