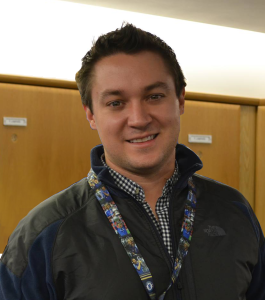 MEET
Doug Bush, Sales Manager
OF
Bush Brothers Provisions Company, Inc.
What makes Bush Bothers different than other meat packing/distributors?
Bush Brothers is one of the few remaining independent family owned and operated meat companies in an industry that was once dominated by family-run independent companies.  We are also one of the few foodservice meat companies that still custom cut every piece of meat by hand. From pork chops, to hamburgers, to filet mignon, every portion is hand-cut to order every day.
What is like being part of a fifth generation, family business?
Family businesses are amazing.  My great-great grandfather started this business 89 years ago.  Today, with my father, uncle, and cousins, we still do virtually the same process today- just on a bit of a larger scale.  There is nothing better than going to work every day and sitting with your dad.
What are some of the restaurants you service?
Our partners are mostly independent restaurants, hotels, and country clubs.  We service mostly white-tablecloth restaurants, but also work with any restaurant that values a quality custom product.  We ship to several hundred restaurants per day, so listing them all would be impossible.
That being said, we service higher-end steakhouses like the Forge (Miami Beach), Meat Market (Miami Beach), The Grille (Wellington), and Peter's Steakhouse (Jensen Beach).
We also service amazing hotel restaurants like Ironwood at PGA National, Jove at Four Seasons Palm Beach, Flagler Steakhouse and HMF at the Breakers, and Angle at the Eau Palm Beach.
Some of my favorites are the creative independent restaurants like Nick & Johnnies (Palm Beach), Hullabaloo (West Palm Beach), and Coolinary Café (Jupiter).
For more casual, check out some of our burger customers like The Shake Shack (Boca, Miami Beach, Coral Gables), The Brass Ring (North Palm and Royal Palm), and Chuck Burger (Palm Beach Gardens).
There are a LOT more.
What's your favorite cut of meat?
You KNOW I can't just give you just one answer!  I would wager that if you asked every "meat man" in the country, the vast majority would agree with me and say any cut from the Ribeye.  The best part being the little muscle around the edge of the steak called "spinalis".  There are some great newer cuts that are available now like Hanger Steak or Flatiron that also are great grill fodder.  In the end, I am always a sucker for a great grilled veal rib chop.
What's one thing you'd love people to know about Bush Brothers? 
I would love more people to see the efforts and care that the entire animal agriculture industry puts towards creating safe, clean, healthy, and humane products on a daily basis.  I think the meat industry gets a terribly bad rap for a few bad examples.  Many small independent businesses, from the farmers that grow the corn, to the family breeders and feeders, to the small butchery companies like us, put blood, sweat, and tears into getting these wonderful products to their tables in a way that gives dignity and respect to the animals we produce.
Bush Brothers Provision Company is a fifth generation family owned meat packing and distribution company, located at the same address since 1925.
bush-brothers.com
The following two tabs change content below.
Cristyle is a South Florida native, born in Miami and raised in Palm Beach. Her love of food came through her travels and seeing how cuisines differ and relate so much. She attended the University of Florida, had a short stint in Charlotte, NC and is now back home - ready to eat her way through Palm Beach County and share her findings with locals and visitors alike. From brunch to happy hour to foodie events, she's got you covered!