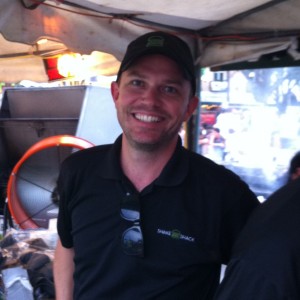 MEET
Jon Vandegrift, Senior Director of Operations
OF
Shake Shack, Boca Raton, FL
We ran into Jon at SunFest 2014 at the Shackburgers tent. I've been a Shake Shack lover for years  via NYC so I was shocked to hear there is a local shop!
How did you get involved with Shake Shack?
I've been working with Union Square Hospitality Group for over 11 years now. I started at one of our fine-dining restaurants, Tabla [unfortunately since closed], back in 2002. From there, I opened the Cafes at MoMA after the Museum underwent their massive renovation in 2004, and it was there that I began experiencing what it was like to work in an environment that was high-volume. Next up was the opportunity to take over as the General Manager for Shake Shack in 2007. I joined a few years after Shake Shack began, but back then we were still just the one location in Madison Square Park in Manhattan. We finally decided to open our second location on the Upper West Side in the fall of 2008, and I was tasked with opening that location. The success and amazing reception we received from the community for the UWS location was really what fueled our decisions to grow bigger. And in 2010, I became the Director of Operations for SHAKE SHACK.
I got involved because the language of hamburgers is universal and appeals to everyone. Shake Shack has touched on something special that resounds and works so well in so many different places, and for me, it was a great opportunity for me to challenge myself and continue to learn in my career.
What sets Shake Shack apart from other burger joints?
What sets us apart is the people we have on our teams, and the way that they approach their jobs and do their jobs. We serve great food and have unique and interesting locations, but those are things that anyone can copy or replicate if they put some thought and care into it. But what can't be copied is our people. There's a feeling that you get when you walk into any SHAKE SHACK, and that's coming from our teams. We hire the best – from our team members to our managers to the support teams in our Home Office. We hire people that genuinely care about giving great service and great hospitality, and the end result is that intangible gut feeling that our guests have when the dine with us. They feel good about eating at SHAKE SHACK.
How do you come up with and execute some of the ideas Shake Shack employs? (Teaming up with charities, having a dog menu, having an exclusive Brooklyn Brewery ale..)
We live by the old adage that a "rising tide lifts all boats". We know that successful communities make successful businesses. And being active in the community – whether it's supporting a charity financially or volunteering at an organization or hosting school kids for a morning to see behind the scenes of a restaurant – is the RIGHT way to do business. We're only as good as our community, so we have a responsibility and a vested interest in making sure it thrives for all its users.
We approach our menu development and choices by making sure that we are adding something to the dialogue of the burger restaurant. We have ShackMeister Ale from Brooklyn Brewery because they are a great partner and are from our hometown, and we worked with them to design something to pair perfectly with our signature ShackBurger. Having great partners or unique items allows us to elevate the experience, and bring some of our fine-dining roots to SHAKE SHACK. That's why we have our own line of Frog's Leap wines by the glass!
If we add an item to the menu, it's going to be unique. For example, we resisted for years adding bacon to our menu. But when we finally did, we created a brand new, unique and interesting item to go with it – the Smoke Shack. It would have been easy to just add bacon, but we wanted to introduce an item that allowed us to really HIGHLIGHT the bacon for all of its smoky, crispy, wonderful, tasty glory!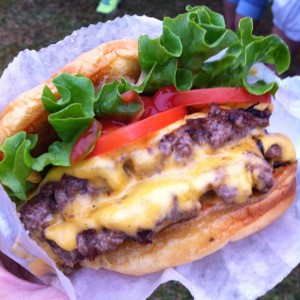 What is your favorite item on the menu? What is your current food crush?
I've been with the SHACK for 7 ½ years now, and I never get sick of the ShackBurger. I honestly think it's the perfect burger for me – it is beefy, salty, sweet, savory, and has the right balance of textures and proportions of beef to bun to toppings. No one ingredient overpowers the other. You taste them for what they are. I'll admit, I add our pickles to it because I think those are pretty special, too.
My current food crush is anything pickled. Pickling just brightens and enhances almost anything, and you can do it in so many different ways that changes the ingredient. The flavors can be so powerful and interesting when you get salty, sweet, sour, tangy and a nice crunch.
What's up next for Shake Shack? And when are you coming to Palm Beach?
We are continuing to grow in our current markets and open new ones. This year we'll be opening our first Shacks in Austin, TX; Chicago, IL; Atlanta, GA; Winter Park, FL; Baltimore, MD as well as continuing our growth in NYC, DC, the Boston area and more.
No plans for Palm Beach yet, but we had a great reception from the wonderful and dynamic residents of the West Palm Beach area while at Sunfest. You never know…

Check out Shake Shack in Boca Raton! And make sure to mention bringing the Shack to PB 🙂
Shake Shack
1400 Glades Rd, Boca Raton, FL 33431
561.923.0847
shakeshack.com
The following two tabs change content below.
Cristyle is a South Florida native, born in Miami and raised in Palm Beach. Her love of food came through her travels and seeing how cuisines differ and relate so much. She attended the University of Florida, had a short stint in Charlotte, NC and is now back home - ready to eat her way through Palm Beach County and share her findings with locals and visitors alike. From brunch to happy hour to foodie events, she's got you covered!