MEET
Massimo De Luca, General Manager
OF
La Masseria, Palm Beach Gardens, FL
I had the pleasure of meeting Massimo while dining at La Masseria PBG last week and couldn't resist a spotlight. If you visit and catch him in the dining room, I definitely recommend saying hello and ordering a glass of his house made limoncello!
Where did your love of food begin? How did you make your start in restaurants?
Growing up in my grandmother's kitchen, just the smell would make you hungry. In Italy, we live to eat. My grandfather owned a hotel in Rome so I was always surrounded by a world of both food and hospitality. I was originally an insurance broker but moved to New York City and needed to find the easiest job – and fast – while not being able to speak good English. I started as a busboy under [La Masseria Co-owner and Chef] Pino Coladonato's direction at the Museum of Modern Art (MOMA) and within a few months became the manager. I left NYC to come to Miami where I opened two restaurants as an owner and chef – one Italian and one continental.
What brought you to sunny South Florida? And to the La Masseria team?
I moved to South Florida to start a life together with my wife, Elizabeth. My friends, Pino, Peppe and Enzo, called me when they wanted to open their new restaurant, La Masseria, and here we are.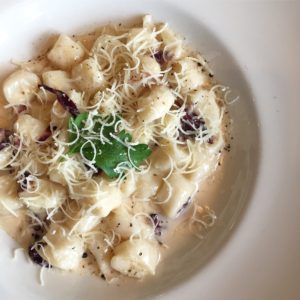 What is your food & beverage crush of the moment?
For food, pizza, gnocchi and veal Milanese are my favorite. And to drink, I always love Amarone wine.
What is one think you would love for people to know about La Masseria?
We truly do serve the freshest food.
Any advice for local aspiring restaurant professionals/GMs?
Not every day is going to be sunny but keep that smile going – it's your most powerful weapon.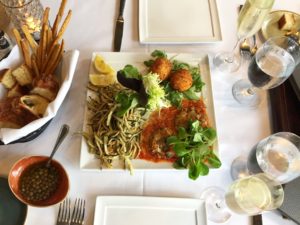 La Masseria PBG
5520 PGA Boulevard Suite 104, Palm Beach Gardens, FL 33418
561.660.8272
The following two tabs change content below.
Cristyle is a South Florida native, born in Miami and raised in Palm Beach. Her love of food came through her travels and seeing how cuisines differ and relate so much. She attended the University of Florida, had a short stint in Charlotte, NC and is now back home - ready to eat her way through Palm Beach County and share her findings with locals and visitors alike. From brunch to happy hour to foodie events, she's got you covered!