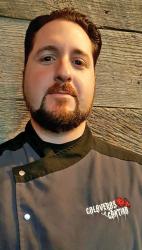 MEET
Dave Watson, Executive Chef
OF
Calaveras Cantina, Jupiter, FL
How did you get started as a chef? What brought you to Calaveras?
It all started when I was 20 years old. I knew that my passion was to become a chef so I took a position at Barrymores as a sous chef. From there I began working my way up. For me my transition to Calaveras Cantina was an easy one. I have always loved Mexican cuisine and being a part of such an incredible team like the one at Calaveras was a dream come true. It was finally an opportunity to bring together my passion for cooking as a chef and my love for Mexican food.
What inspires you in the kitchen?
As a Chef there is nothing more inspiring than seeing people enjoying your food and coming back for more. The moment when you see someone truly love what you have prepared is incredible. It is what keeps me going in the kitchen.
What is your guilty pleasure / food crush of the moment?
Right now I would have to say our chorizo tacos. I call them "La Abuelita" and they are my guilty pleasure. You should try them for yourself!
What's one thing you would love for people to know about Calaveras Cantina?
I would love for people to know that at Calaveras Cantina our food is our #1 priority. We never settle when it comes to ingredients and always use the freshest ingredients available.
Any advice for local aspiring chefs?
Learn as much as you can from the experiences you have in the kitchen. Absorb it all and pay attention to what others are telling you because it will be useful in the future!
Calaveras Cantina
125 Dockside Circle, Jupiter, FL 33477
561.320.9661
calaverascantinas.com
The following two tabs change content below.
Cristyle is a South Florida native, born in Miami and raised in Palm Beach. Her love of food came through her travels and seeing how cuisines differ and relate so much. She attended the University of Florida, had a short stint in Charlotte, NC and is now back home - ready to eat her way through Palm Beach County and share her findings with locals and visitors alike. From brunch to happy hour to foodie events, she's got you covered!