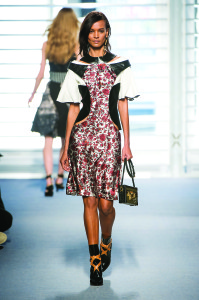 Fashion 911: Find the Season's Hottest Trends at The Gardens Mall
Designers showcase a relaxed look this season with
forgiving silhouettes, cozy knits, cheery hues, and plenty of outerwear options.
The fashion runways are congested with high-octane glamour, and The Gardens Mall is where the stylish set detour for the season's most coveted must-haves. Fasten your seat belts, it's going to be a haute ride!
If Gertrude Stein said, "Rose is a rose is a rose is a rose," then Saint Laurent's artistic director Hedi Slimane's response is, "If you've seen it once, you'll see it again." In other words, versatility is the key ingredient to one of the season's hottest trends: gray and silver. Because it is just as flattering as black, but offers just a bit more interest and mystery, gray is the perfect neutral. But this season, thanks to luxurious fabrics and textures, it's so much more than a run-of-the-mill staple. The coolest way to wear it? Paired with its metallic cousin, silver. There's no doubt about it; glinting gorgeousness teamed with low-key gray is the ultimate, modern combo.
Mod is the new awesome. First there was Twiggy. Then Jackie O. Hello, Jane Birkin. It's easy to see why the swinging '60s is one of the favorite decades for designers to revive. This time around, heavy hitters like Gucci, Saint Laurent, and Louis Vuitton proved the relevance of the short shift dress a half-century after it was first made popular. Add accessories with a retro edge for a look that is universally flattering and timelessly chic.
Chic chubbies and peacoats and pants, oh my! One side effect of last year's so-called polar vortex is a newfound obsession with bundling up. Indeed, although outerwear is always an important story for fall, it's even more dominant this season with cozy fabrics like fur and shearling dominating major runways, including double alpaca coats at Gucci, and Emporio Armani's exquisite faux fur pelts. To showcase the look in milder climates like sun-drenched South Florida, opt for a lighter touch with accessories like fur-accented bags or exotic print boots.
ZZ Top's "sharp-dressed man" is the masculine muse for the season's most dapper must-have: the feline power suit. Done in a borrowed-from-the-boys silhouette or amped up with feminine accents (think glitzy epaulet detailing or peek-a-boo sequins), boardrooms across the nation will be the perfect backdrop for this utterly classic, investment-worthy style.
Don't miss "Craving Fashion" on Friday, September 26th!
About The Gardens Mall
The Gardens Mall is located one mile east of I-95 on PGA Blvd. in Palm Beach Gardens, Florida. The luxurious, 1.4-million-square-foot, super-regional shopping center features more than 160 world-class retail specialty shops and restaurants. It is anchored by Nordstrom, Saks Fifth Avenue, Bloomingdale's, Macy's, and Sears. The Gardens Mall is owned and managed by The Forbes Company.
For more information about The Gardens Mall, call 561.775.7750 or visit the mall online at thegardensmall.com.
The following two tabs change content below.
Cristyle is a South Florida native, born in Miami and raised in Palm Beach. Her love of food came through her travels and seeing how cuisines differ and relate so much. She attended the University of Florida, had a short stint in Charlotte, NC and is now back home - ready to eat her way through Palm Beach County and share her findings with locals and visitors alike. From brunch to happy hour to foodie events, she's got you covered!