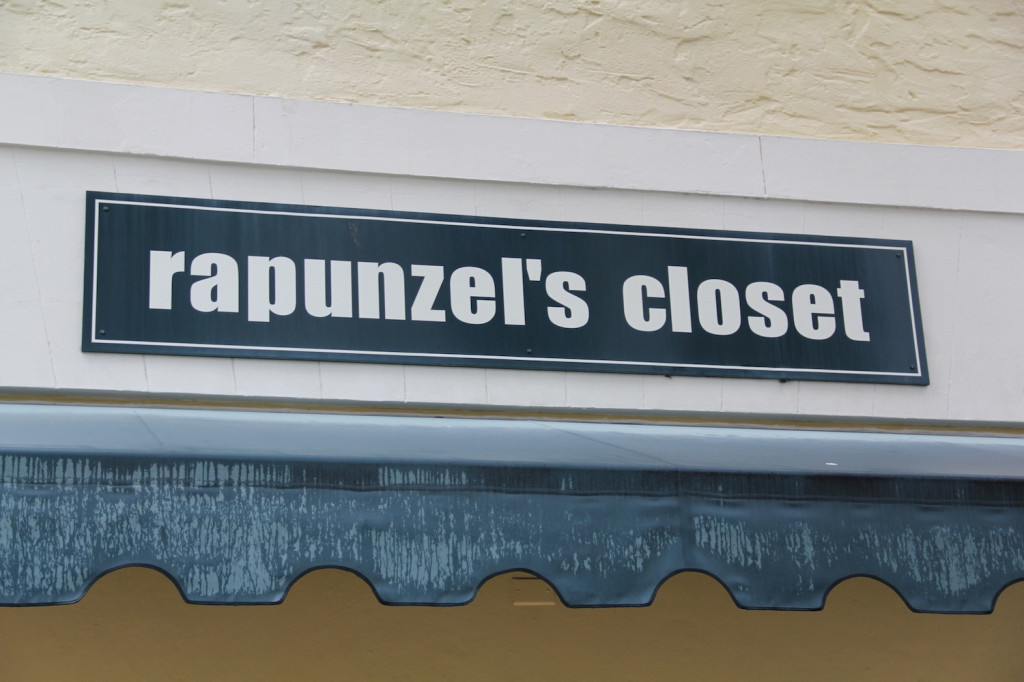 EAT PALM BEACH | RAPUNZEL'S CLOSET
So after the "Where do you want to go to dinner?" question, I feel like the next big one on the list is "What are you going to wear?"
I popped by Rapunzel's Closet last week to do some digging and get you some serious answers..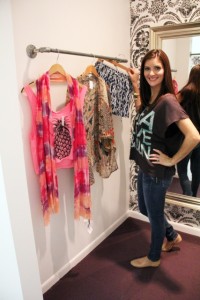 Sundry Sea Love Square Tee | Old Black | $68
Citizen of Humanity Avedon Skinny Jeans | Byron Bay | $178
TKEES Raleigh Flats | Cocoa Butter | $98
If you're not familiar with Rapunzel's Closet, they are a boutique on Palm Beach (S. County Road to be exact) offering high-end brands in trend setting and classic designs. The shop is bright and inviting and is like a little shopper's paradise on the Island. Not to mention, the ladies of Rapunzel's are all beautiful, always seem to look effortlessly fabulous and are super sweet and helpful. If you haven't been, just go. Trust me.
So without further ado, here are the finds of the day!
BRUNCH WITH THE GIRLS
If you are by any chance a frequenter of The Wine Dive on Clematis, then you know that "B*s Love Brunch." And I am no exception. There is something about French Toast or Eggs Benedict on a Sunday at Noon that sparks immediate interest in my world.
For brunch with the girls, I like to go girly and casual, but in a glamorous "oh this old thing?" kinda way. Think tank top, shorts and flip flops… with bangles to your elbows.
Tassels are huge right now, especially in accessories. And being a South Florida native, I can tell you color is always in season (we wear Lilly Pulitzer in winter). I stumbled upon this aqua Pink Stitch Maxi and thought jackpot. A fun tassel necklace, whimsical clutch and bangles for days – done!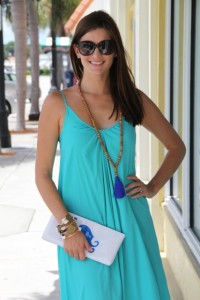 Pink Stitch Resort Maxi Dress | Aqua | $84  –  Lolo Manning Octopus Clutch | $48
TKEES Foundations Sandals | Coco Butter | $50
LJC Chunky Tassel Necklace | $38  –  Bourbon & Boweties Bangles | $40 each
STARBUCKS RUN
If you haven't tried on one of these kimonos, then perhaps you haven't lived.. They are like the most lightweight, comfortable, publicly acceptable fashion robe. With fun patterns and colors, they are the perfect statement piece for an outfit.
With the kimono taking center stage, it's easy to throw over a simple look – aka cut off denim shorts and a white tee – and look like you are totally put together and fabulous. I fell in love with this gray and white kimono, so I decided on some hot pink accessories to pop and give it a summery edge.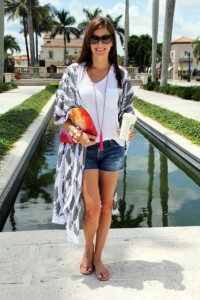 LJC Chevron Kimono | Grey & White | $99  –  Current Elliot Pocket Tee | Sugar | $88
Citizen of Humanity Ava Cutoffs | Folsom | $185
Samudra Gradient Pandanus Pouch | $66
TKEES Foundations Sandals | Coco Butter | $50
Zacasha Tassel Necklace | $48  –  Bourbon & Boweties Bangles | $40 each
DINNER DATE
Dinner Date to me means va-va-voom. I don't know why, but dinner dates are one of the only everyday occasions where I truly dress up for my hubby. Maybe because you're sitting the majority of the time and sky-high heels are so easy to pull off for the night?
I have to give some credit to the ladies of Rapunzel's, because I immediately went for a black dress and they went straight for this petaled Lovers & Friends beauty. Paired with a colorful Guadalupe clutch, this outfit is fiery and the perfect summer dinner date night look. It's all about keeping it fun and flirty.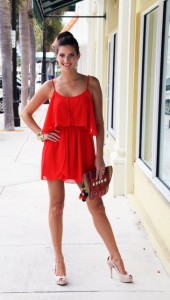 Lovers & Friends Aries Dress | Posie | $154  –  Guadalupe Designs Clutch | $99
Bourbon & Boweties Bangles | $40 each  –  Shoes: Guess
LABOR DAY BBQ
Last call to wear white! Labor Day is around the corner, which means barbecues, beach days, picnics and patriotic fun in the sun.
I loved this playful Sundry graphic tee and went straight for the cropped skinnies. A white canvas is crisp and chic and an easy canvas to build on. Some navy and red accents (and maybe a little pink and aqua) and you're ready to celebrate!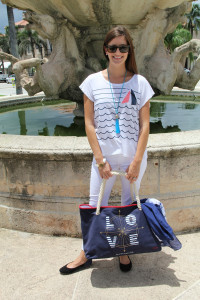 Sundry Sailboat Square Tee | White | $68
Citizen of Humanity Phoebe Skinny Crop Jeans | Santorini | $163
Peace Love World Love Tote | $148  –  Minnie Rose Scarf | Ionian Sea | $172
TKEES Raleigh Flats | Midnight Blue & Black | $98
Bourbon & Boweties Bangles | $40 each
HAPPY HOUR
OK, this outfit could really work anytime! Amazing.
Sundry's "Locals Only" sweatshirt is adorable and can be easily dressed up or down. In this case, a pair of silk cuffed pants and wedges bring it up a notch and make it a comfy and noticeable Happy Hour ensemble. The Minnie Rose cuffed pants are awesome in silk because they can also go casual or super chic depending on the fabric and silhouette of the top you choose.
These Annie Fischer clutches are a perfect grab-and-go bag too if you haven't seen them. So playful and fun while being totally practical with different size options.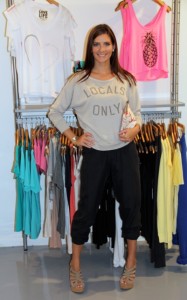 Sundry "Locals Only" Sweatshirt | Coal | $96
Minnie Rose Silk Cuffed Pant | Black | $295
Annie Fischer Large Anchor Pouch | $59  –  Bourbon & Boweties Bangles | $40 each
Can't get enough of those Bourbon and Boweties? ME NEITHER! They are perfect for stacking and playing with color and texture.
Pop in to Rapunzel's Closet to check out these outfits and see what other goodies they have to offer, including Citizens, Ella Moss, Free People, Hanky Panky, J Brand, Joie, Lolo, Palm Beach Lately, Splendid, Sundry, Taj, TKEES, Velvet…
Happy shopping!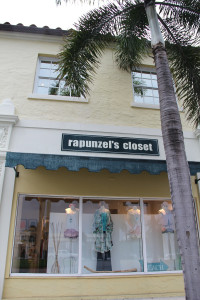 Rapunzel's Closet
326 S County Rd, Palm Beach, FL 33480
561.659.5300
For the little fashionistas in your life, visit:
Lil Rapunzel's | 251 Royal Poinciana Way, Palm Beach, FL 33480 | 561.659.3131
shoprapunzels.com
Have a look you want to see styled? Let me know! 
The following two tabs change content below.
Cristyle is a South Florida native, born in Miami and raised in Palm Beach. Her love of food came through her travels and seeing how cuisines differ and relate so much. She attended the University of Florida, had a short stint in Charlotte, NC and is now back home - ready to eat her way through Palm Beach County and share her findings with locals and visitors alike. From brunch to happy hour to foodie events, she's got you covered!