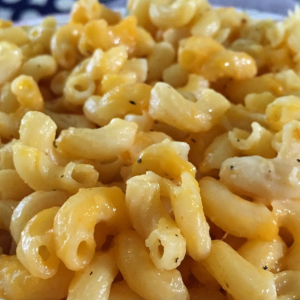 Must-Have Mac & Cheese
Eat Palm Beach
This recipe is so easy and delicious! You can tailor the seasonings to match your tastes. Use cayenne, paprika, nutmeg, garlic, onion powder, you name it… I use Zatarins because it has a nice blend of everything and adds a little kick. You can also add chicken, bacon, etc. to make this more of a meal than a side and shake up the cheese options. This version is more of a classic and perfect for a bbq.
2 Boxes (4 Cups) Barilla Elbows
4 Tbsp (1/2 Stick) Butter
2 Bags (3-4 Cups) Shredded Mild & Sharp Cheddar
1/2 Cup Sour Cream
1 Cup Milk
1 Can Campbells Cheddar Cheese
1/2 Tsp Salt
1/2 Tsp Pepper
1/2 Tsp Ground/Dry Mustard
Zatarins Cajun Seasoning to taste
* Make sure to line the crockpot with a slow cooker liner (best product EVER!) or spray with Pam.
—
Boil the pasta for 6 minutes. While that cooks, put the remaining ingredients (minus the shredded cheddar cheeses!) into the crock pot and mix. Drain pasta and add to the pot. Mix well getting all of the pasta coated. It won't look super exciting yet because you add the shredded cheeses later. Cook on low (8-10 hours) for 2.5 hours. I usually stir a few times over the 2 hours, maybe once every 30 min or so. Add the cheddar cheeses at 2 hours and stir. I add all of the mild cheddar and the majority of the sharp cheddar then add the leftover sharp cheddar to the top a few minutes before serving so there is a pretty layer of melted cheese.
—
This recipe makes enough for a party. I've taken it to block parties, family gatherings, housewarming BBQs, etc. It's a great warm side when grilling out. Don't make it too early because it will start to dry out if left in the crockpot on warm for too long (learned that the hard way). I normally shoot for it to be ready when I think the food will actually hit the table, not at the start of the party.
Hope you enjoy it!
-EPB
The following two tabs change content below.
Cristyle is a South Florida native, born in Miami and raised in Palm Beach. Her love of food came through her travels and seeing how cuisines differ and relate so much. She attended the University of Florida, had a short stint in Charlotte, NC and is now back home - ready to eat her way through Palm Beach County and share her findings with locals and visitors alike. From brunch to happy hour to foodie events, she's got you covered!