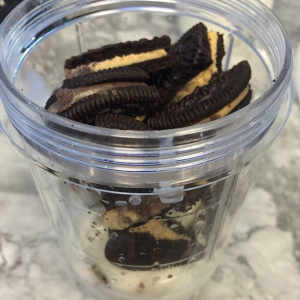 Oreo Milkshake
Eat Palm Beach
This recipe is stupid easy.. seriously. However, I'm sharing it because I was craving a cookies and cream milkshake so badly one day and running through potential locations to visit and then remembered I had a pack of the limited Reese's Peanut Butter Cup Oreos on the counter and thought – can I make this happen right now?
You can make this in a blender or if you have a Bullet it's even easier for a quick one serving shake.
2 Part Ice Cream or Frozen Yogurt
1 Part Milk
5 Oreos
Vanilla Extract (optional)
Whipped Cream (optional)
So basically the main thing you have to know is the proportion of ice cream to milk:
2 scoops of ice cream with 1 cup of milk will give you more of a loose milkshake.
If you want a thicker shake, add more ice cream. 
You can really make this thing your own with ice cream flavors, your candy of choice, fruit, you name it. My go-to would be Vanilla Ice Cream with Double Stuf Oreos, but on this particular day I used what I had available which was Toffee Vanilla Frozen Yogurt and Reese's Oreos. I have to say, the pairing was pretty delicious. The vanilla extract gives you a little more pop if you care to amp it up.
If you wanted to make this for guests, your sig other, or kids and make it look much more impressive, add a nice swirl of whipped cream and some crumbled cookies to the top for garnish.
Have fun!
– EPB
The following two tabs change content below.
Cristyle is a South Florida native, born in Miami and raised in Palm Beach. Her love of food came through her travels and seeing how cuisines differ and relate so much. She attended the University of Florida, had a short stint in Charlotte, NC and is now back home - ready to eat her way through Palm Beach County and share her findings with locals and visitors alike. From brunch to happy hour to foodie events, she's got you covered!