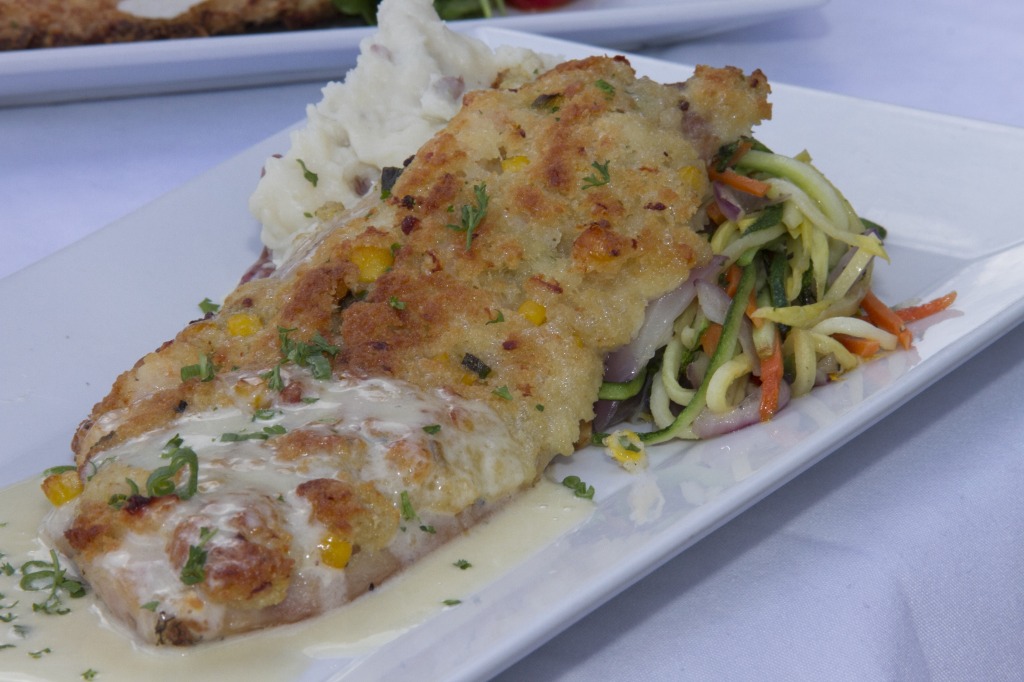 Shrimp and Corn Crusted Snapper
Oceans 234
For the fish:
2-8 oz pieces of yellowtail snapper
For the crust:
2 oz corn kernels
4 oz baby shrimp chopped
1 oz scallions
3 oz panko bread crumbs
1 oz soft butter
For the veggies:
1 zucchini diced
1 squash diced
1 red pepper julienne
¼ red onion julienne
¼ carrot julienne
For the mash:
10 red bliss potatoes
4 oz milk
1 oz butter
For the sauce:
1 bay leaf
Juice from one lemon
1 shallot chopped
4 oz white wine
2 oz heavy cream
4 oz butter
In a mixing bowl combine all ingredients for the crust with salt and pepper to taste.
Cover the snapper with the crust. In a sauce pot, cover potatoes with water and boil. Once the potatoes are tender, drain water. Add milk and butter then mix thoroughly.
Place snapper in a preheated oven at 350 for 12 minutes or until the crust is golden brown.
In a hot sauté pan place 1 oz of oil and stir in veggies. Cook on high heat 3 minutes or until tender.
In a sauce pot combine the shallot, bay leaf, lemon juice and white wine. Reduce by half and add the cream. Reduce by half again and slowly add butter.
Divide the mash on two plates, add the veggies and fish. Drizzle the sauce over.
(Serves 2)
The following two tabs change content below.
Cristyle is a South Florida native, born in Miami and raised in Palm Beach. Her love of food came through her travels and seeing how cuisines differ and relate so much. She attended the University of Florida, had a short stint in Charlotte, NC and is now back home - ready to eat her way through Palm Beach County and share her findings with locals and visitors alike. From brunch to happy hour to foodie events, she's got you covered!