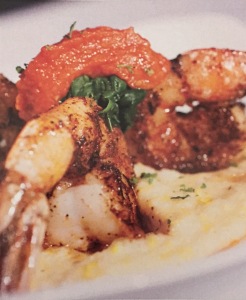 Shrimp and Grits
Table 26, Palm Beach, FL
Instant Grits
1/2 Qt Shaved Fresh Corn
2 Cups Quaker Instant Grits
2 Qt Milk
1 tbsp Sugar
Salt and Pepper to taste
Tabasco to taste
Add milk, corn. Add grits. Cook out to consistency and desired texture. Season to taste. Reserve.
Shrimp
12 Shrimp (peeled, deveined)
2 tbsp Blackening Seasoning
1 tbsp Blended Olive Oil
Tomato Ginger Chutney
25 roma Tomatoes (blanched, skinned, peeled, rough chopped)
3 White Onions (rough chopped)
12 Cloves Garlic
4 oz Fresh Ginger (rough chopped)
Robo coupe or chop in food processor: onions, garlic and ginger.
1 oz Sesame Oil
4 oz Sugar
4 oz Rice Wine Vinegar
1/2 Bunch Cilantro
Spinach
Kale
Tabasco to taste
Saute onion mixture in sesame oil until translucent, no color.
Add sugar, vinegar and cilantro.
Dissolve sugar and then add roma tomato. Mix and simmer 1 hour to recede moisture to puree consistency.
Cool and process in rock coupe or food processor.
Reduce further if necessary.
Peel and devine 3 jumbos shrimp of choice, season with blackening spices.
Saute in hot oil turning frequently until cooked through.
Add spinach and kale in hot pan off the heat to wilt. Season.
Build dished with corn grits.
Top with tomato ginger chutney to garnish.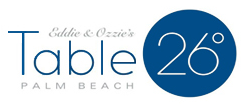 Table 26
1700 S Dixie Hwy, West Palm Beach, FL 33401
561.855.2660
table26palmbeach.com
The following two tabs change content below.
Cristyle is a South Florida native, born in Miami and raised in Palm Beach. Her love of food came through her travels and seeing how cuisines differ and relate so much. She attended the University of Florida, had a short stint in Charlotte, NC and is now back home - ready to eat her way through Palm Beach County and share her findings with locals and visitors alike. From brunch to happy hour to foodie events, she's got you covered!