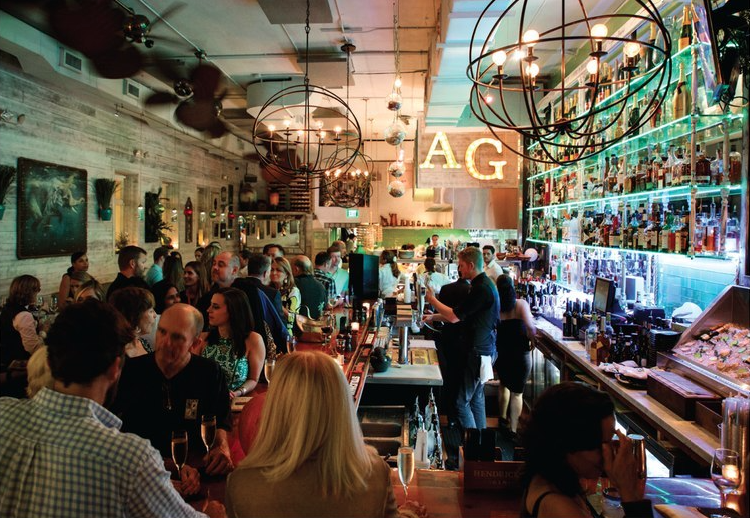 EAT PALM BEACH | AVOCADO GRILL
As featured in inJupiter Magazine
Holy Guacamole
Avocado Grill Heads North
Moving on Up
Avocado Grill is set to open their doors at Downtown at the Gardens this Fall, bringing their hotspot vibe to North County. Known for their farm-to-table creations and lively atmosphere, the flagship Datura location has been a popular hangout from brunch to late night for the past two years. Chef Julien Gremaud plans to bring new life to the former RA Sushi space with fresh, high quality food and an energetic crowd.
At the helm of the design is Saladino Design Group. The décor of the 4,200 square foot floor plan will reflect the original AG aesthetic with shades of green blended with modern and natural elements to create an earthy and airy space. The restaurant will feature an open kitchen for diners to enjoy the bustle of their food being prepared along with a large bar area. There will be outdoor seating to enjoy the people watching of Downtown at the Gardens just outside of the floor to ceiling doorways.
The move north is exciting for the Avocado Grill team as they join a handful of chefs elevating the Palm Beach Gardens and Jupiter culinary scene. Their artful approach to food and attention to detail and quality ingredients has generated a loyal following and local fan base, which is sure to grow. The opening is an exciting sign for residents as the foodie scene makes it way up from Miami and Fort Lauderdale.
Two's a Charm
Current patrons of Avocado Grill will be happy to hear that the lunch and dinner menus will mirror the Datura location with daily special Oysters, Ginger Guacamole, small plates like Stuffed Zucchini Blossoms, specialty Ceviche menu, Craft Tacos, inventive Salads and main plates like their Grilled Hanger Steak and Mussels and Fries.
The vibrant energy of AG will also make its way to the area with their spirited Sunday Brunch featuring breakfast items like AG Benedict, small plates like Burrata Salad, and desserts like Nutella Avocado Mousse. Their Happy Hour is sure to be a welcomed addition to the neighborhood with craft cocktails as well as their Summer Bar Menu for discounted bites. Avocado Grill is also known for their theme parties and events with live music and DJs bringing more than just a dining experience.
Avocado Grill should prove to be a powerhouse for Downtown at the Gardens, catering to foodies, health-conscious diners and boozy brunch aficionados alike. The shopping and entertainment center is currently home to Whole Foods and Cobb Theaters making this a perfect spot with valet parking within a few steps and specialty retail and boutiques open for a post-meal stroll.
Chic on Any Coast
Chef Julien Gremaud began his culinary journey on the coast of France in Saint-Tropez. Inspired by his mother his passion for food and drive to become a restaurant owner started early. By his teens he had learned the ins and outs of the kitchen. After working in the UK he made his way to the United States in 2000 where he began his stateside career in Chicago at two leading French restaurants.
South Florida lured him down in 2002 where he began making a name for himself as a personal chef. Chef Julien worked for notable local eateries including Pistache and PB Catch before taking the leap and opening Avocado Grill in 2014. He has since become a beloved Palm Beach County chef, active in the community with events like Taste of the Nation where he served as the Chef Chair for the Shake Up cocktail competition. His downtown location has earned numerous awards and accolades creating an exciting buzz around this soon-to-be site.
Chef Gremaud strives to create an inspired experience for his customers, leading them on a global culinary adventure during their meal. He encourages guests to linger and enjoy their cocktails and plates. The goal is for people to leave feeling full, happy and healthy. Chef's love of live music is the driving force behind their rotation of local talent and another way for him to provide a memorable visit that leaves visitors feeling vibrant and revitalized. Avocado Grill is slated to open at 11701 Lake Victoria Gardens Ave #401, Palm Beach Gardens, FL 33410 in Downtown at the Gardens. For more information visit avocadogrillwpb.com.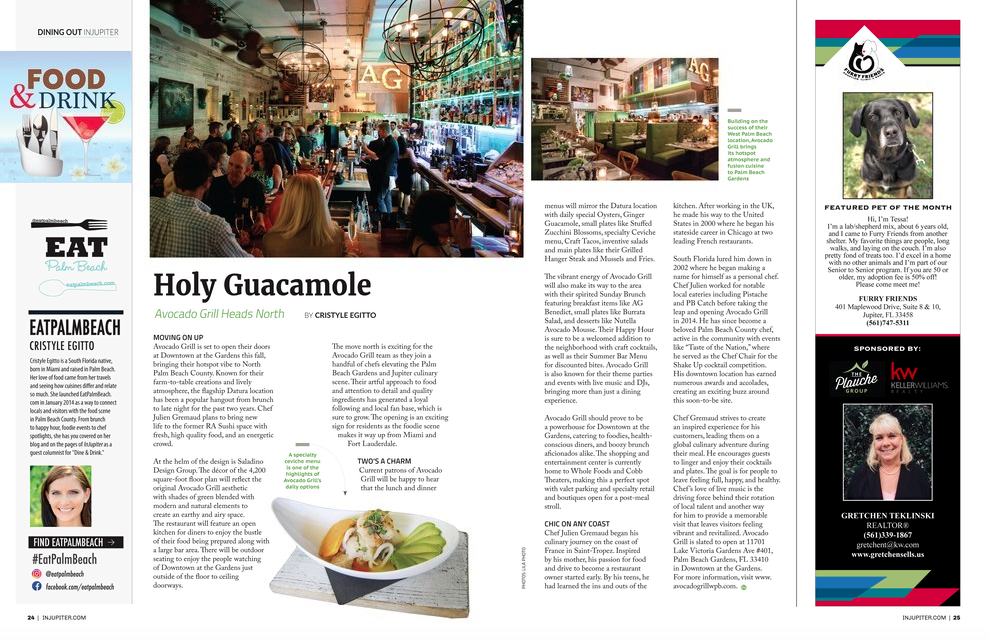 The following two tabs change content below.
Cristyle is a South Florida native, born in Miami and raised in Palm Beach. Her love of food came through her travels and seeing how cuisines differ and relate so much. She attended the University of Florida, had a short stint in Charlotte, NC and is now back home - ready to eat her way through Palm Beach County and share her findings with locals and visitors alike. From brunch to happy hour to foodie events, she's got you covered!