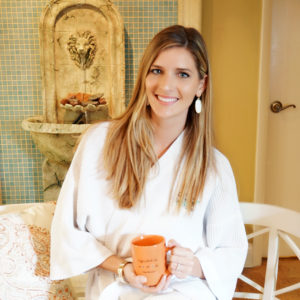 I visited Kaffee's Garden Spa this week in anticipation of "Spatober" coming to the Palm Beaches in October. Spas throughout the area will be offering fantastic packages and deals for the month.
For more info visit: Spatober.com
Located just off Southern and US1 the spa is quiet and inviting with a small waiting area lit with a glowing salt crystal. Hot teas and water are available while you rest. The staff is warm and engaging and has put together the perfect blend of pampering for their October deal.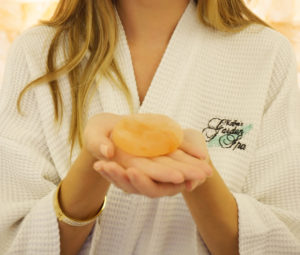 Discover Spa and Wellness: Start your spa and wellness experience with a 45-minute massage using warm Himalayan salt stones in our serene and beautiful Salt Room while inhaling the healing benefits of dry salt therapy. Next receive an expert manicure in the Garden Salon. Guests have the option to add a 50-minute facial treatment, which includes a skin analysis, deep cleanse, light exfoliation, essential oil infused facial compresses, mask and rehydration. Gratuity included. The spa will donate 5 percent of each service to charity.
Cost: $225 (massage, manicure and facial) or $140 (massage and manicure)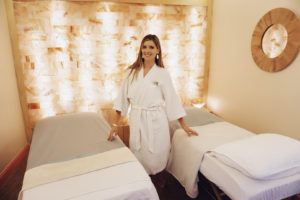 I started off my visit with a massage by Stacy. The massage room is beautiful with a backlit Himalayan pink salt wall and warming salt rocks. As the lights dim the glow of the wall is tranquil and relaxing. A state of the art Halogenerator produces a micronized aerosol of purified salt mist that flows into the room providing health benefits to the respiratory system and skin. The room features 2 tables for a couples massage option. Stacy is a fantastic therapist with strong hands and a lovely personality. She used the hot salt rocks during my massage and it was delightful.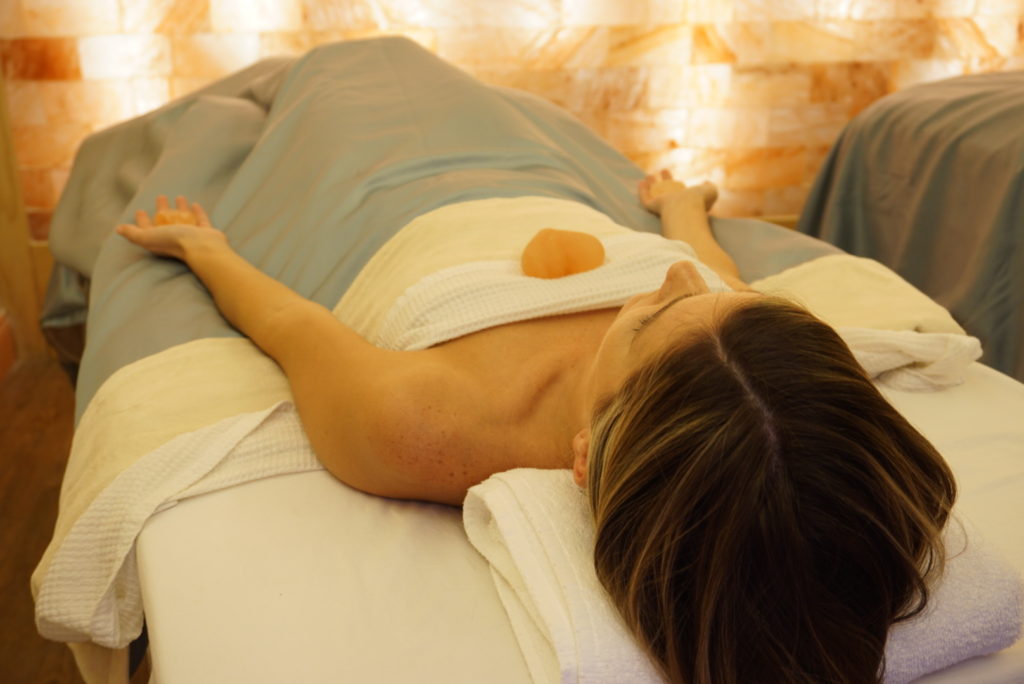 My next stop was a manicure with Samantha in the Garden Salon. They offer a variety of colors with lines like Essie, Zoya and Duri. There were also spa pedicure chairs and a hairstylist for those looking for the head to toe experience. Samantha has been in the industry for decades, clearly loves her job and takes great pride in her work.
My final treatment was a facial with Kaffee, the owner. She uses a variety of products including Circadia, Jurlique, Dermalogica and Aromandina essential oils. I enjoyed chatting with her about the history of the spa while she worked wonders on my skin.
Kaffee began her career in California before building a client base in Palm Beach. She made the move across the bridge from the island about 20 years ago. Taking over the spa on her own she grew the business from the days of having to lock the front door while she was in a service to taking over the entire building and having a team of stylists, technicians and therapists.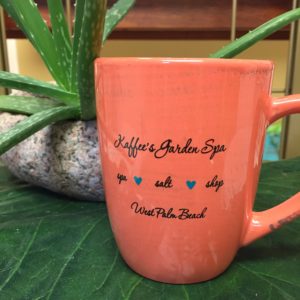 While the spa has a quaint, homey feel she is definitely on the cutting edge when it comes to products, techniques and offerings. She even developed an aloe hydrating fluid that is to die for and available for purchase in her shop (look for the blue bottle).
I loved discovering this gem in Palm Beach County and look forward to future visits – especially to the beautiful salt massage room! In the meantime, I have my trusty blue bottle to keep my skin glowing.
Book your Spatober visit today.
For more info visit: Spatober.com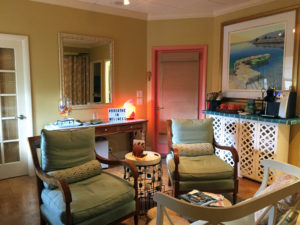 Kaffee's Garden Spa
4100 S Dixie Hwy, West Palm Beach, FL 33405
561.833.4483
kaffeesgardenspa.com
About Spa & Wellness Month
Spa & Wellness Month in The Palm Beaches is a compilation of more than 30 spa and wellness offers in the destination. The featured spa therapies, wellness experiences and healthful treats are only available at limited-time prices throughout the month of October. Not only that — all participating businesses are giving a portion of their proceeds to the Palm Beach County chapter of the American Cancer Society. Pamper yourself for a great cause!
The following two tabs change content below.
Cristyle is a South Florida native, born in Miami and raised in Palm Beach. Her love of food came through her travels and seeing how cuisines differ and relate so much. She attended the University of Florida, had a short stint in Charlotte, NC and is now back home - ready to eat her way through Palm Beach County and share her findings with locals and visitors alike. From brunch to happy hour to foodie events, she's got you covered!