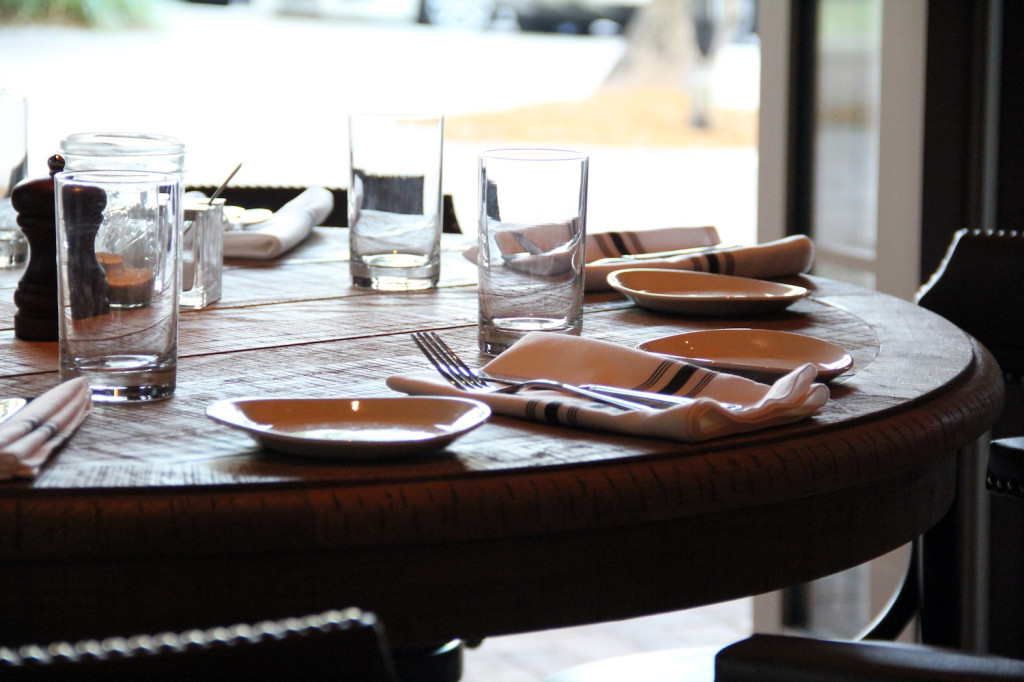 EAT PALM BEACH | THE COOPER
The Cooper is the newest member of the PGA Commons family! I visited them on their opening night to see what all the buzz is about.
I was excited to hear of a farm to table type concept in the Gardens area and was happy to see that they proudly display the names of some of the local farms and artisans that they work with in their kitchen and along the bottom of the menu. They include Swank Specialty Produce, Farmhouse Tomatoes, Green Cay Farms, Pantano Farms and Bedner Farms.
The decor and atmosphere is lovely with outdoor seating complimented by lanterns and mason jar candlelight. The interior is rustic with pops of color and a variety of seating options.
We started off with the  "Ham & Cheese" A La Plancha which was Serrano-wrapped fresh mozzarella served on a grilled crostini with a heirloom tomato emulsion. It was delicious! We also tried out the Mini Cooper Slider, with a butcher's blend patty served on an airy bun. It was fresh, juicy and flavorful with cheese, a pickle and a yummy spread.
For drinks, I went with the Cranberi Lemonade Martini made with Tito's Vodka and the hubs went with the Max Family Cuvee Cabernet Sauvignon out of Napa Valley.
I have trouble with menus like these because I can't narrow down what I want and my eyes get significantly bigger than my stomach. But after careful debate, I ordered the Double-Cut Duroc Pork Chop. It was bone-in and served over a bed of caramelized fennel and celery root purée and topped with a cider glaze. It caused our table quite a bit of attention from surrounding diners. The pork chop was prepared medium rare and the fennel was beautifully caramelized.
The hubs surprised me with a non-steak decision and ordered the Murray's Roasted Half Chicken. It was a seriously stacked plate of food. The chicken was beautifully browned and seasoned and the meat was tender and juicy. The broccolini and salsa verde added a perfect pop of color to the plate and the hand-cut fries were amazing. I had a bite of the chicken with salsa verde and couldn't help but be a little jealous of his meal.
I'm sad to say dessert was not an option as we both cleared our plates, but I wish I would have at least asked to see the dessert menu (hindsight: 20/20). I'm not too worried though as we are sure to be back soon. I'm also curious to see if they do a Happy Hour as I loved the outdoor bar area and think it could be an instant hotspot.
I definitely recommend making a trip to The Cooper. The atmosphere, food and service are all wonderful and it is sure to be a welcomed addition to the local food scene.
UPDATE: The Cooper does offer a Happy Hour now. Great drinks specials and Happy Hour menu. The outdoor bar is a popular spot after work!
Meals at the Table
Cranberi Lemonade Martini | Ham & Cheese a la Plancha | The Cooper Slider | Double Cut Duroc Pork Chop | Murray's Roasted Half Chicken
The Cooper
4610 PGA Boulevard, Suite 100 | Palm Beach Garden, FL 33418 (PGA Commons)
561.6220032
thecooperrestaurant.com
The following two tabs change content below.
Cristyle is a South Florida native, born in Miami and raised in Palm Beach. Her love of food came through her travels and seeing how cuisines differ and relate so much. She attended the University of Florida, had a short stint in Charlotte, NC and is now back home - ready to eat her way through Palm Beach County and share her findings with locals and visitors alike. From brunch to happy hour to foodie events, she's got you covered!