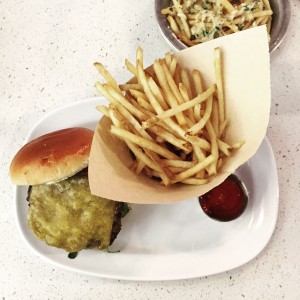 EAT PALM BEACH | THE COUNTER
The Counter Custom Built Burgers is the newest dining addition to the Gardens Mall, located on the first floor near Sears. I visited them for lunch this week to see what they've been up to behind that "Coming Soon" facade.
First off, I really liked the look and feel of the place. They have outdoor seating, a bar area with TVs and an industrial style space with tables, booths and high tops. The lunch crowd was mainly at the bar, checking out the golf tournament and chatting, but we grabbed a booth.
Checking out the menu, I was pleasantly surprised. They offer a variety of starters and salads, a build-your own grilled cheese, tried and true pre-built burgers, burger bowls, the custom burger menu with loads of options – from protein to cheese to sauce to toppings to bun – and a lengthy fries menu (shoestring, sweet potato, onion strings, loaded spuds, you name it). They also have a killer dessert list and custom shakes, floats and malts menu.
One thing I really liked about the menu was the healthy and non-burger options. The Kale Salad and Hippie Salad both sounded good, they offer grilled veggie skewers or quinoa salad as a side, a vegan veggie burger, veggie club sandwich, an ahi tuna bowl, etc.. So you can build a pretty guiltless meal considering you're at a burger bar.
I went with The Old School Burger which was made up of a beef patty with tilamook cheddar, lettuce, tomato, onion, pickle and red relish. You can choose a 1/3lb or 1/2lb patty. I went 1/3lb and thought it was a good choice. It was cooked perfectly and had great flavor. I loved the Shoestring Fries, which are the only type of fries that I ever clear the plate.
I'm normally a turkey burger girl, so I'll definitely be back to give that a try – probably as a build your own. You can also get chicken, ahi tuna, veggie or bison as your protein if you're not in the mood for beef.
It was lunch so I didn't go for dessert, but I think I'll be back for that too with an ice cream sandwich, key lime pie and build your own malts on the menu (among others).
Our server was fantastic and with it being their opening week the owner was making the rounds which I liked. I go into fresh restaurants anticipating some hiccups along the way so I was happy to see they really have it together already.
I'd definitely recommend checking out The Counter if you're in the mall and looking to grab a bite or wanting to try something new in PBG. I think this will be a popular lunch spot for surrounding businesses too (especially if they work up a lunch special). You can also order to-go and they offer catering. Go get creative!
Meals at the Table
Parmesan Fries | The Old School Burger | Shoestring Fries
The Counter
3101 PGA Boulevard, Palm Beach Gardens, FL 33410 (Gardens Mall)
thecounterburger.com
The following two tabs change content below.
Cristyle is a South Florida native, born in Miami and raised in Palm Beach. Her love of food came through her travels and seeing how cuisines differ and relate so much. She attended the University of Florida, had a short stint in Charlotte, NC and is now back home - ready to eat her way through Palm Beach County and share her findings with locals and visitors alike. From brunch to happy hour to foodie events, she's got you covered!