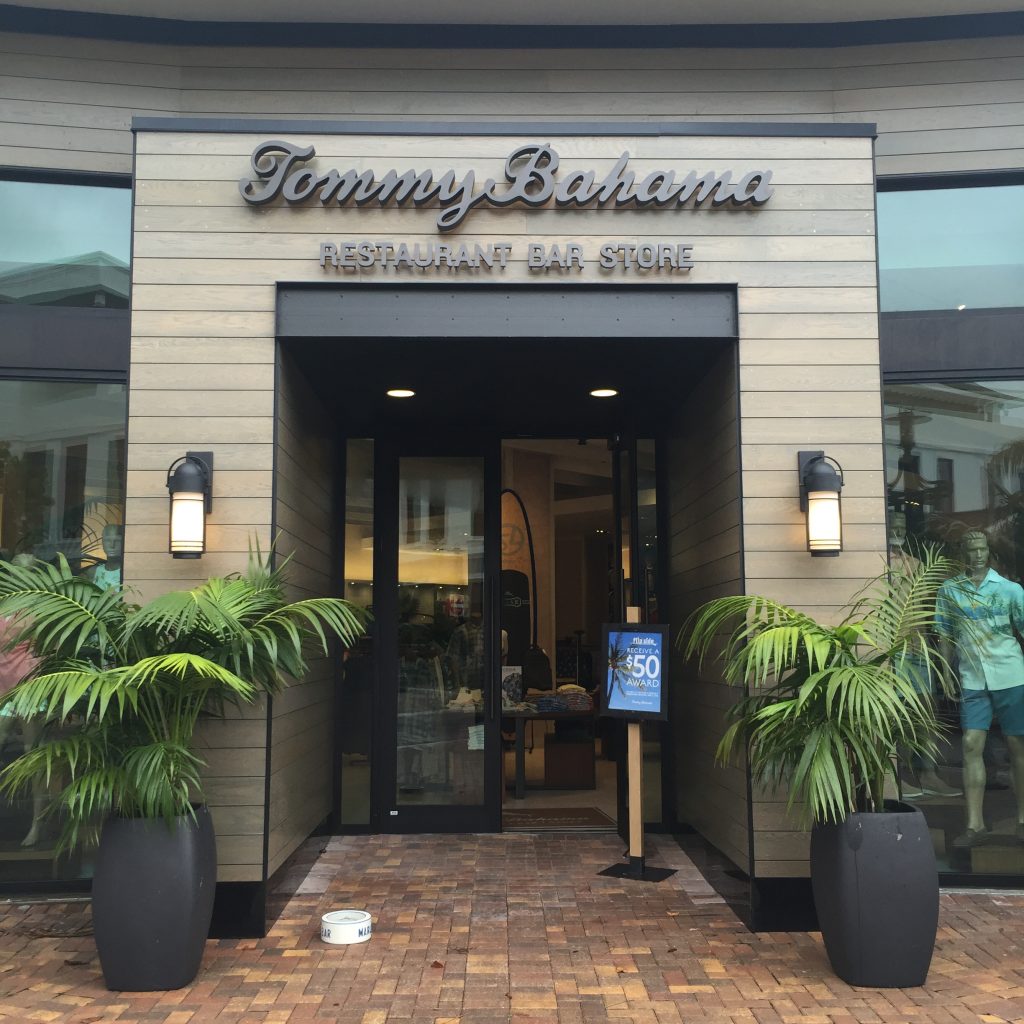 EAT PALM BEACH | TOMMY BAHAMA
We visited Tommy Bahama at Harborside Place in Jupiter last week and what a treat. I really like this location because I feel like you can have a lot of different atmospheres in one place. They have a lively bar area, outdoor patio seating and a dining room.
They host live music Wednesdays through Saturdays and offer happy hour. This is also a great spot for private events as we saw a rehearsal dinner while we were there. I love the ability to be indoor and outdoor, especially with South Florida summer upon us.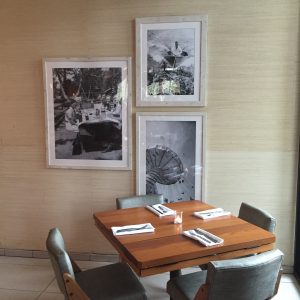 We were seated in the main dining area which has a clean, neutral design that is classy but relaxed. I started off with a Grapefruit Basil Martini made with Greygoose vodka, fresh squeezed grapefruit and garnished with a large basil leaf. It was aromatic and delicious. I was also happy to see a few local beers make the drink list like Twisted Trunk's IPGA.
Kicking off with the bread basket – I'm such a fan of their bread and honey cinnamon butter! I could eat that butter all day. We also had a Classic Caesar to start which was a beautiful plate of crisp romaine drizzled with creamy caesar dressing and topped with shaved Parmesan and croutons.
I debated a Seared Scallop over Kale and Quinoa dish on the specials menu but ended up going for the Thai Shrimp and Scallops. They were served seared and plump over almond rice with lemongrass and a coconut curry reduction. Also at the able was the Smokehouse Bacon Burger with sharp cheddar, BBQ ketchup, garlic aioli served with fries. As I was not invited to share a bite as they cleared the plate, I will take their word for it that it was very good and to be ordered again on their next visit.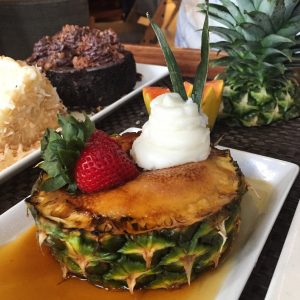 I'll admit we had no business even looking at the dessert tray (although just catching a glimpse of the Vanilla Creme Brule in a Pineapple was worth it). However, at the recommendation of our server we decided to "try a bite" of the Malted Chocolate Pie. Now THIS is a dessert! With its crunchy chocolate cookie crust, light but creamy mocha mousse filling and delicious english toffee crumble there wasn't a single element of this item to dislike. My one bite turned into half of a mini pie. I just couldn't stop. We also snuck away with a slice of the Key Lime Pie to go and wasn't that just the best breakfast surprise! They make their graham cracker crust in-house and use fresh key limes for the filling giving it the tang you want in a key lime pie.
Outside of the food, the evening overall was pretty fantastic. The vibe at Tommy Bahama is really enjoyable and relaxing. Our server, Zack, was noticeably friendly, accommodating and great at his job. He was also wonderful with my daughter, who was along for her first media dinner, which I really appreciated. We also got a chance to chat with Chris, Manager, and he was equally delightful.
If you haven't tried out Tommy Bahama, I recommend making a visit whether it's for a happy hour cocktail, lunch on the patio or date night dinner.
And get the dessert!
Meals at the Table
Tommy Bahama
126 Soundings Ave #2, Jupiter, FL 33477
561.406.6631
tommybahama.com
The following two tabs change content below.
Cristyle is a South Florida native, born in Miami and raised in Palm Beach. Her love of food came through her travels and seeing how cuisines differ and relate so much. She attended the University of Florida, had a short stint in Charlotte, NC and is now back home - ready to eat her way through Palm Beach County and share her findings with locals and visitors alike. From brunch to happy hour to foodie events, she's got you covered!