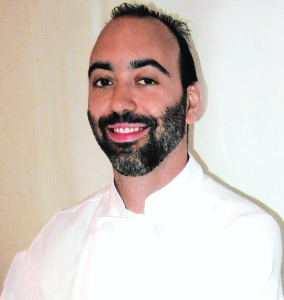 MEET
Adam Brown, Executive Chef
OF
The Cooper, Palm Beach Gardens, FL
How did you end up joining The Cooper team?
Max Restaurant Group's founder and president, Rich Rosenthal, was looking for a chef who was familiar with the South Florida market and shared the same vision of a farm to table-style restaurant. Meanwhile, I was looking for an opportunity at a high-quality, new concept restaurant that would complement my cooking style. Rich and I had long brainstorming sessions about ingredients, style, and hospitality. It was a perfect storm of ideas.
Tell us more about your culinary background.
I've been cooking in kitchens since I was 15. I graduated from the Culinary Institute of America, and worked in kitchens in New York City and throughout South Florida. I remember going to the Union Square Green Market and being amazed at all of the outstanding local produce, dairy, meats, and honey. The connection between the farmer and the chef started there. Over the years, I worked at Sunfish Grill in Fort Lauderdale and the Sundy House in Delray Beach. Later, I joined Rapoport's Restaurant Group where I helmed the kitchens of Henry's, and Burt & Max's Bar and Grille.
How do you come up with new dishes?
Sometimes it comes while having a conversation with a purveyor who tells me about an amazing ingredient. Seasonality definitely plays a big part as well; whether it's the spring with fava beans and lighter fish dishes, or the winter with rustic ingredients like root vegetables and heavier braised meats.
Where do you get your inspiration?
Everywhere. From eating at restaurants, reading my favorite culinary magazines, talking food with my chefs, or cooking at home with my wife, Robyn. I'm always thinking about food. Everywhere I go, I look at everything − from shopping sprees at the green markets with my family to driving home after a long and busy day.
What is your food/drink crush of the moment?
I'm really into watermelon with Piment d'Espelette, a bright-red pepper from the Basque region in France. French feta is really cool too, also Peruvian chiles like aji panca and aji amarillo.
What advice do you have for local aspiring chefs?
Passion is very important. It's a lot of long hours and the schedule can be grueling. A chef friend once told me that you've got to be like a sponge and absorb everything that's happening around you. You really need to love what you are doing.
Check out our review of The Cooper HERE!
The Cooper
4610 PGA Boulevard, Suite 100 | Palm Beach Garden, FL 33418 (PGA Commons)
561.6220032
thecooperrestaurant.com
The following two tabs change content below.
Cristyle is a South Florida native, born in Miami and raised in Palm Beach. Her love of food came through her travels and seeing how cuisines differ and relate so much. She attended the University of Florida, had a short stint in Charlotte, NC and is now back home - ready to eat her way through Palm Beach County and share her findings with locals and visitors alike. From brunch to happy hour to foodie events, she's got you covered!