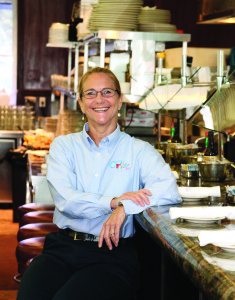 MEET
Ellen Daly, Managing Partner
OF
Spoto's Oyster Bar, Palm Beach Gardens, FL
How did you get involved with Spoto's?
My brother, John Spoto, opened the original Spoto's Oyster Bar in downtown West Palm Beach, and the restaurant was extremely successful. At the time, I was the general manager of a Charley's Crab in Fort Lauderdale, and I had been working for the Muer Corporation for over 13 years. But when your brother calls because he needs an extra set of hands, you go. So Spoto's became a family business. I think this translates into our relationships with our customers, they, too, become a part of the Spoto's family.
What is your favorite part of working at Spoto's?
Every trip to Spoto's is special, so I like to "wow" my guests every time they come in with family and friends. But I truly love making our guests feel special on their birthdays, anniversaries, and other celebrations.
What sets Spoto's apart in the Palm Beach Gardens food scene?
We take great pride in our staff and our seafood. We uphold the highest standards for both. Our seafood, clams, and oysters are brought in fresh daily. We require the "top of the catch," so we receive the best each day. The same goes for our staff, their attitudes should always be hospitable and warm. We want each guest to walk away feeling special.
What is your favorite dish on the menu? What is your current food/drink crush?
My favorite dish on the menu is lobster fettuccine. My favorite drinks at the moment are our spicy fresh watermelon margarita and our fresh blackberry mojito.
What's one thing you'd love people to know about Spoto's?
I want our customers to see our mission statement in action, which is to provide an exceptional quality of life every day for our guests through outstanding food, service, and value.
Any advice for those aspiring to be a part of the local restaurant industry?
Always stay focused on the inside of the building. No matter what anyone else is doing, keep your eye on the ball. You know your restaurant best, so continue to make your restaurant better than it was yesterday.
Check out our review of Spoto's HERE
Spoto's Oyster Bar
4560 PGA Blvd, Palm Beach Gardems FL 33418
561.776.9448
spotosoysterbar.com
The following two tabs change content below.
Cristyle is a South Florida native, born in Miami and raised in Palm Beach. Her love of food came through her travels and seeing how cuisines differ and relate so much. She attended the University of Florida, had a short stint in Charlotte, NC and is now back home - ready to eat her way through Palm Beach County and share her findings with locals and visitors alike. From brunch to happy hour to foodie events, she's got you covered!