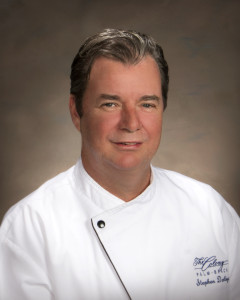 MEET
Stephen Darling, Chef de Cuisine
OF
The Colony, Palm Beach FL
What made you decide to become a chef? What is your culinary background?
I started my culinary career as a steward at a seafood restaurant in my home town of South Portland, Maine. After a while I became a Sous Chef, and became a part-time Floridian at the Jupiter Island Club, returning to Fisher's Island in NY for the rest of the year.  When I first became a line cook I really enjoyed the fast pace of the kitchen, it was a rush to get out the dinner every night, it became kind of addicting, delivering incredible culinary creations at a fast pace is truly an art form.
How has being a part of The Colony influenced you as a chef?
Being a Chef at The Colony has offered me great creative opportunities, with 4 different outlets to customize for, Polo Restaurant, Café 155, The Royal Room and our banquet events.  Also, having our own garden is a big inspiration, I can create new combinations of flavors, new ideas to make the dining experience at The Colony something different, yet classic.
What was the inspiration behind the new on-site vegetable and herb garden?
In between seasons a couple of years ago, my wife and I thought it would be a great opportunity as Chefs to grow our own herbs and vegetables. With my carpentry skills and my wife's green thumb we approached the hotel's General Manager with the idea, and shortly thereafter we started our project. Little that we knew, besides providing us harvest, it has been the preferred location for weddings, apparel photo shoots, private dinners, etc.
What is your food crush /guilty pleasure of the moment?
Fried chicken…a well done fried chicken or a seafood pasta salad are my current weaknesses.   Seafood pasta dishes can be very versatile, my new favorite style is Thai.
Any advice for local aspiring chefs?
Keep your eyes opened and do not keep your mouth shut, ask a lot of questions at the right time, find out from seasoned Chefs how their favorite ingredients work together.   Seasoned Chefs can teach you a lot of things that are not learned in a classroom setting, and experiment, use your free time to experiment in the kitchen.
The Colony
Polo Steaks & Seafood | Palm Court | Cafe 155
155 Hammon Ave, Palm Beach, FL 33480
thecolonypalmbeach.com
The following two tabs change content below.
Cristyle is a South Florida native, born in Miami and raised in Palm Beach. Her love of food came through her travels and seeing how cuisines differ and relate so much. She attended the University of Florida, had a short stint in Charlotte, NC and is now back home - ready to eat her way through Palm Beach County and share her findings with locals and visitors alike. From brunch to happy hour to foodie events, she's got you covered!