MEET
Richard Rosenthal, Founder
OF
Max Restaurant Group, Owner of The Cooper in Palm Beach Gardens, FL
How did you come up with the name "The Cooper"?
All of our restaurants are called "Max" (Max Downtown, Max's Oyster Bar), but we didn't want to be confused with The Max Group (owners of Max's Grill and Max's Harvest). So we came up with The Cooper, which is a barrel maker, and because we offer craft beers and barrel-aged cocktails.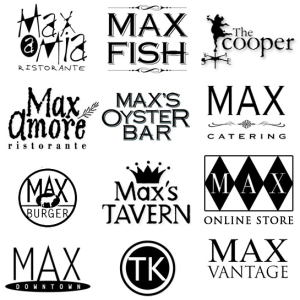 How did the concept for The Cooper come about?
The trend right now in dining, and what we do up North, is artisanal and local. When we decided to open a restaurant in Palm Beach Gardens, we wanted to create a menu that was, for one, seasonal and locally sourced, and two, a menu that would mean different things to different guests on different nights. So the menu varies from a salad to a burger or fish. I didn't want to be a restaurant where people only came to celebrate special occasions. So we created a café-inspired setting where guests would feel comfortable ordering a big steak or just grabbing a burger at the bar.
What is your favorite dish on the menu?
The roasted chicken. I enjoy steak and fish, but roasted chicken is my favorite comfort food. I've eaten at Michelin-starred restaurants all over the world, but only Chef Adam can roast a bird so it stays really juicy.
Why did you choose Palm Beach Gardens as the location for The Cooper?
Actually, the city chose me. When me and my wife Vicki bought a home in Palm Beach Gardens three years ago, we had no plans to open a restaurant. But I'm a serial restaurant owner, and I just can't help myself. While we were here on vacation, one thing led to another, and we started to talk about opening a restaurant. We weren't particularly serious until an extraordinary location [the former Water Bar] opened up at PGA Commons.
You weren't interested in hyper-foodie cities like Delray Beach or Boca Raton?
No, not at all. Not because they're bad areas; I just wanted a place near my house, and I loved Palm Beach Gardens. My wife and I love the shopping and dining lifestyle at PGA Commons, so when a space opened, it seemed fortuitous.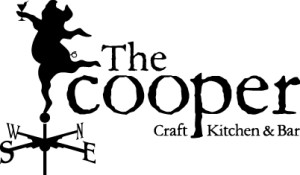 How did you get your start in the hospitality field? Do you prefer the front of the house or staying in the kitchen?
Like most people in this business, I started bussing tables as a teenager. Some kids love working at a supermarket or at the swimming pool, but I fell in love with the restaurant business. The hustle of a predinner rush was incredible. I worked at a popular, local steakhouse, and me and the other waiters had a nightly pool on how many covers we were going to do. The excitement of an empty restaurant filling up, turning tables, and guests having fun felt like showbiz to a 15 year old. After college, I went to culinary school and learned how to cook. The heart of a restaurant is the kitchen. You can spend a lot of time and money on decor and management personnel, but at the end of the day, it's really the roasted chicken, the sautéed fish, and the signature salad that bring the guests back.
When I lived in New York City, I worked in the kitchen, increasing my knowledge of cooking. A few years later, I opened Max on Main in Hartford, Conn. A good friend of mine once told me that I would never have been as successful in any other business like I am in restaurants. Some people are meant to be baseball players, and some are made to be restaurateurs. I love restaurants. I love working in them, eating in them, and seeing the trends. I was born with grease in my veins.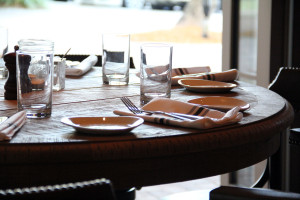 Any advice for local aspiring restaurant owners? 
Do your homework. If you want to open a restaurant, you need to understand how everything works – from the kitchen culture to the front of house. You need to be passionate about what you're doing and have a thorough knowledge of food and beverages, and everything in between. When I opened my first restaurant, things were a lot simpler. Today, there's more technology involved and working with government agencies, and understanding zoning and permits. Restaurant owners need to be fluent in every aspect of their business – from workers' comp and health insurance to unemployment. That's why it's so important to have a thorough understanding and years of hands-on experience in the hospitality field. Just because you've worked in a restaurant for a year, doesn't mean you know what you're doing.
What's next for The Cooper/Max Restaurant Group?
That's a good question. We've been approached to open more restaurants in Connecticut and Florida, but I don't know if we'll open another one or not. We don't have a strategic plan and it drives people crazy because they want to know what we're doing next. We've always grown very organically, and going back to how The Cooper opened, it was a great opportunity and felt like something we wanted to do. Often, I ask myself how many restaurants do I have left in me. I'm 57 (I feel like I'm 37), but the answer is: I don't know. A lot of it depends on my management team. I'm very fortunate to be surrounded by very professional and creative people like Will Penenori (general manager of The Cooper) and Adam Brown (executive chef of The Cooper).
–
Check out our review of The Cooper HERE
maxrestaurantgroup.com
The following two tabs change content below.
Cristyle is a South Florida native, born in Miami and raised in Palm Beach. Her love of food came through her travels and seeing how cuisines differ and relate so much. She attended the University of Florida, had a short stint in Charlotte, NC and is now back home - ready to eat her way through Palm Beach County and share her findings with locals and visitors alike. From brunch to happy hour to foodie events, she's got you covered!